Sprint Ahead with Your Evolving Needs

You can realize significant time, value and cost benefits by outsourcing your support and maintenance function and activities to us.
We provide a range of services that are designed to substantially lower your maintenance costs and ensure timely response and guaranteed service levels.
Our architects and analysts get involved from the very beginning to understand the existing product architecture and define your requirements for enhancements.
Our Engineers then collaborate with your company's Chief Technical Officer (CTO) and engineering staff to deliver the desired results in the shortest possible time frame.
Our product enhancement services add new features and functionality to existing products based on changing business needs and competitive market dynamics.
One of the biggest advantages of using SigmaTec for software product enhancement is our ability to extend our own software development resources to meet your specific requirements.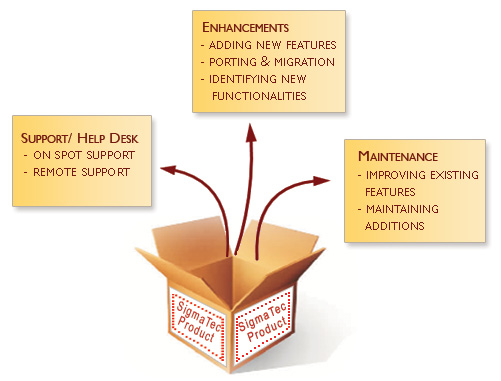 W
E
O
FFER
On Spot/Remote Support & Help Desk
Consulting analysis for quickly identifying new functionalities
Capability to:

Add new features
Improve existing features
Add components to a specific functionality
Make software available on various platforms (porting and migration)
Adapt existing software as web services
B
ENEFITS
The value of your product is enhanced through superior support and maintenance
Outsourcing reduces the cost of enhancement
Product time-to-market is improved due to faster release cycles
You can easily maintain a flexible resource pool
You acquire the ability to extend market opportunities
Development time is reduced by using collaborative development